Seaman 1st Class Milton Reece Surratt
S1C Milton Reece Surratt lost his life on December 7, 1941, aboard the USS Oklahoma during the Japanese attack on Pearl Harbor, Hawaii. In the aftermath of the attack, S1C Surratt's body was not identified and he was declared Missing in Action. Through technology and DNA provided by his family, his remains have now been identified and are being returned to his family.
Mr. Surratt was a son of the late Grover Cleveland Surratt and the late Bertha Forrester Surratt. His brothers were James Clyde Surratt, Walter G. Surratt, and Harold Surratt. His sisters were Grace Taylor, Maggie Oakley, and Thelma Daniel. All are now deceased. The Surratt family resided in the Mauldin, SC community in the early 1900's. The family attended Mauldin Baptist Church which today is known as First Baptist Church Mauldin.
Mr. Surratt is survived by a first cousin, John Daniel Baldwin, of Gray Court and a WWII Veteran, a nephew, Harry V. Daniel of Asheboro, NC; nieces, Gail Daniel Shaw of Prospect, KY, Carol Oakley Drury of Newport News, VA, Shirley Oakley Watkins of Durham, NC; and a host of great-nephews, and great-nieces.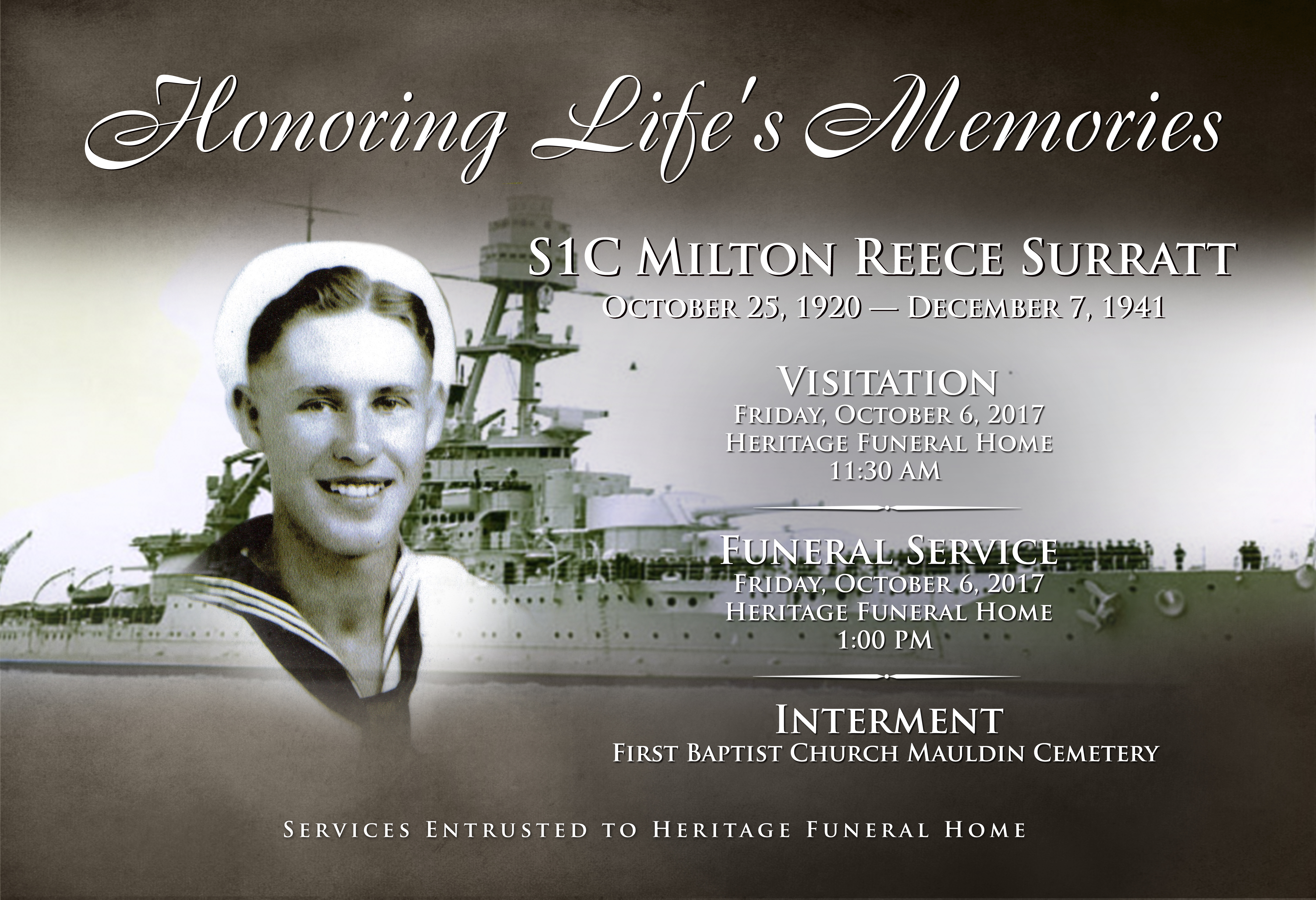 A Funeral Service will be held for Mr. Surratt on Friday, October 6, 2017 at 1:00 PM in the Heritage Funeral Home Chapel with Rev. Robert Keely officiating.
Visitation will be held from 11:30 AM to 12:45 PM prior to the service.
Interment, with full military honors, will be in the First Baptist Church Mauldin Cemetery.