Ralph Mertins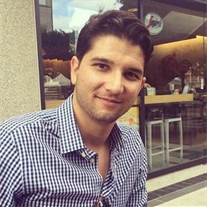 Ralph H. Mertins, age 26, passed away on Thursday, November 10, 2016.
Born in Brazil, he was a son of Dacio H. Mertins and Marcia Cancialosi and husband Jim Cancialosi. He was a marina boat captain in Miami.
In addition to his parents and step-father, Ralph is survived by three brothers, Martin Mertins, Joshua Cancialosi, and Roldolfo Pingarelho; two sisters, Natasha Cancialosi and Gina Cancialosi; his girlfriend, Lisette Gonzalez; close friends Santiago Norena and Angel Treto; and many other friends.
A graveside service will be held on Friday, November 18, 2016 at 2:00 PM at Cannon Memorial Park conducted by Rev. Patrick Cooper. The family will receive friends on Thursday, November 17, 2016 from 6:00 PM – 8:00 PM at Cannon Funeral Home.