Ora Lee Whitley Baucom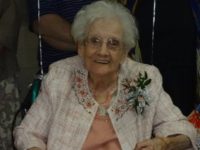 Ora L. Baucom, 95, of Greenville, widow of Azer Dow Baucom Jr, went to be with her Lord and Savior on Tuesday, July 4, 2017 while at home surrounded by her family.
Born in Monroe, NC she was a daughter of the late Green Shephard Whitley and the late Ida Jane Aycock Whitley. Mrs. Baucom retired as a Teacher's Aid from the Orangeburg County School System.
She is survived by one daughter, Bridget Latimer of Greenville; four grandchildren, Ross Latimer and his wife, Leslie, Melissa Latimer, Megan Baucom and Azer D. Baucom IV; and two great-grandchildren, Taylor Latimer and Mac Latimer.
Mrs. Baucom was preceded in death by one son, A.D. Baucom III; five brothers, Clifford, Nae Smith, Boyce, Norman and J.D. Whitley; and four sisters, Pearl Whitley, Faye Taylor, Ruth Barbee, and Maxine Barbee.
A Funeral Service will be held on Friday, July 7, 2017 at 11:00 AM at First Baptist Church Mauldin with Pastor Wade Leonard officiating.
The family will receive friends starting at 10:00 AM prior to the service.
Interment will follow in the Memorial Park Cemetery, 2720 Broughton St, Orangeburg, SC 29115 upon arrival around 3:30 PM.