Mary Gilliam Smith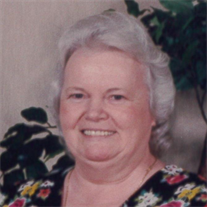 Mary Gilliam Smith, 72, of Simpsonville passed away on Monday, June 12, 2017. She was the wife of the late Clyde Smith Sr. and the daughter of the late Thomas Gilliam and the late Lonnie Rumsey Gilliam.
Mrs. Smith was a member of Simpsonville Church of God, home maker, loving wife, mother and grandmother.
She is survived by two sons, Clyde S. Smith, Jr. and his wife, Chris, of Simpsonville and Jeff Smith also of Simpsonville; three daughters Angela Crawford and her husband, Chuck, of Greenville, Fay Riggins and her husband, Kevin, of Fountain Inn, and Crystal Moore and her husband, Steve, of Simpsonville; four living grandchildren, Rivers Whitmire, Ben Crawford, Jordan Whitmire, and Noah Smith.
She was preceded in death by a grandson, Jacob Riggins.
A visitation will be held on Wednesday, June 14, 2017 at Simpsonville Church of God from 12:30 to 1:45 pm. The Funeral service will follow the visitation at 2:00 pm. Burial will follow in Cannon Memorial Park.