Jeremiah Oliver Patterson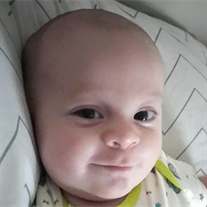 Jeremiah Oliver Patterson, born March 23, 2017, of Woodruff, son of Joshua Dean Thomas Patterson and Kyra Lynn Hawkins, went to be with his heavenly Father on Friday, June 9, 2017.
Jeremiah touched many lives in his short time with his family. In addition to his parents, he is survived his godparents, Brad and Brianna Lockaby; two sisters, Sophia Hawkins and Jacqueline Patterson; one brother, Jacob Croft; grandparents, Tabrina Massengale, Tommy Jefferson, Jr., and Lesa Knighton; three aunts, Olivia Guest, Meagan Jefferson, and Jessica Cooper; and two uncles, Justin Christoper and Tommy Jefferson, III.
A memorial service will be held at the Word of Life Church in Simpsonville on Thursday, June 15, 2017, at 2:00 pm with Pastor John Smith officiating. The family will receive friends following the service.
In lieu of flowers, the family request that donations be made to March of Dimes.