Horace Maxcy Jacks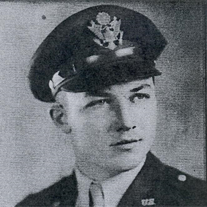 Horace Maxcy Jacks, 96, died peacefully in his home Monday, February 20, 2017 in Simpsonville SC. Born February 9, 1921 he was the son of Jesse Gilliam and Lucille Brashier Jacks.
Lt. Colonel Jacks piloted B-29's during World War II in the Pacific theatre operating out of Saipan and Africa. He flew 97 combat missions and was a recipient of the Distinguished Flying Cross. He retired from the United States Air Force in 1962. In 1979 he took on the role of "Grandfather" and was promoted to "Great Grandfather" in 2012. He was an active member of Hopewell United Methodist Church and loved his family beyond measure.
He is survived by his two daughters and sons-in-law, Dannette and Micheal Dearybury of Simpsonville, SC and Diane and Chandler Ellis of Tacoma, WA. Surviving also are two granddaughters, Brittany Dearybury of Simpsonville, SC and Whitney Murihead and her husband Evan Muirhead, of Simpsonville, SC, one great grandson, William Maxcy Muirhead, one niece, Dr. Martha Batten. He was predeceased by his parents, Mary Elizabeth Jacks his wife of 52 years, and a son, Larry Maxcy Jacks, two brothers, Judson Jacks and Rodman Jacks, a niece, Brenda Waldrop, and a best friend Vic Fienup.
A memorial service will be held at Hopewell United Methodist Church, Simpsonville, SC on Wednesday, March 1, 2017 at 4:00 pm, with visitation starting at 3:00 pm.
In lieu of flowers Memorials can be made to Hopewell Methodist Church or Greenville County Animal Care "Annie's Fund".