Evelyn Ritchie Barnett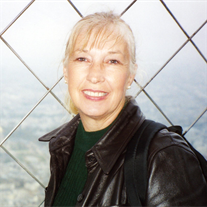 Evelyn Ritchie Barnett, 69, of Fountain Inn, passed away on Friday, June 16, 2017. She was born in Spartanburg County to the late James Phillip Ritchie and the late Louise Leopard Ritchie.
Evelyn is survived by three sons, Wayne Nalley of Fountain Inn, Val Barnett and his wife, Becky, of Greenville, and Ty Barnett of Fountain Inn; a brother, Grady Ritchie and his wife, Mickey, of Fountain Inn; two sisters, Patsy Weathers and Judy Stone, both of Simpsonville; 9 grandchildren; 6 great-grandchildren; and a daughter-in-law, Margaret Nalley of Fountain Inn.
She was preceded in death by three sons, Bill Nalley, Grady Nalley, and Mike Nalley; and two brothers, James Ritchie and Ray Ritchie.
The family will receive friends on Tuesday, June 20, 2017 at Cannon Funeral Home beginning at 2:00 pm. A Funeral Service will follow in the chapel of Cannon Funeral Home at 3:00 pm. Ms. Barnett will be laid to rest in the city cemetery in Simpsonville following the service.