Elaine Jones Carver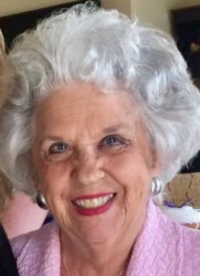 Elaine Jones Carver, 77, of Fountain Inn, wife of the late Richard J. Carver, went to be with her Lord and Savior on Tuesday, July 11, 2017.
Born in Fountain Inn she was a daughter of the late Conway Jefferson Jones and the late Lilla Howard Jones. Mrs. Carver was long-time member of Trinity United Methodist Church in Fountain Inn. She thoroughly enjoyed everything about education. She was a 1961 graduate of Furman University with a degree in Early Childhood Education and went on to teach public school for over 35 years. She was an active member of the Fountain Inn Music Club, the ADK Teachers' Sorority, and served on both the Fountain Inn History Museum and Civic Center Boards. Mrs. Carver helped establish the Mom's Morning Out program at Trinity UMC.
She is survived by two daughters, Donna Ricard and her husband, Tracy, of Greenville, and Deborah Causey and her husband, Scott, of Simpsonville; four grandchildren, Hudson Ricard, Madison Ricard, Joseph Causey, and Mollie Ann Causey; one step-son, Peter Carver of MD; four step-grandchildren, Cooper, Henry, Mason and Ellie Carver; and many nieces and nephews.
Mrs. Carver was preceded in death by one son, Howard Hudson.
The family will receive friends on Thursday, July 13, 2017 from 5:00 – 7:00 PM at Heritage Funeral Home.
A Funeral Service will be held on Friday, July 14, 2017 at 11:00 AM at Trinity United Methodist Church with Dr. Laura Canine officiating.
Entombment will be in the Cannon Memorial Park Mausoleum.
Flowers are appreciated or memorials may be made to: Trinity UMC, "Mom's Morning Out", 403 S. Weston St, Fountain Inn, SC 29644.