Debbie Knight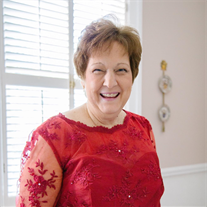 Deborah Barnwell "Debbie" Knight, age 63, wife of Joey B. Knight, passed away on Thursday, October 27, 2016.
Born in Bryson City, NC, she was the daughter of Virginia Gallemore Barnwell and the late Howard Barnwell. Mrs. Knight was a teacher with the Greenville County School System at Plain Elementary and was a member of Fountain Inn Presbyterian Church.
In addition to her husband of 30 years and her mother, Mrs. Knight is survived by a daughter, Chelsey Raiden and husband Justin; two granddaughters, Isabella Raiden and Abigayle Raiden; a step-daughter, Evelyn Norris; a step-granddaughter, Marylin Norris; and a brother, Tim Barnwell.
A memorial service will be held on Sunday, October 30, 2016 at 4:00 PM at the Cannon Funeral Home Chapel conducted by Rev. Andy Casto-Waters. The family will receive friends at Cannon Funeral Home following the memorial service.
Memorials may be made to Fountain Inn Presbyterian Church, P.O. Box 337, Fountain Inn, SC 29644.