Braden Bland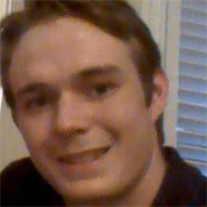 Braden Bland, 25, of Fountain Inn, went to his Heavenly Home on Tuesday, June 13, 2017.
Braden was the son of Dr. Maynard William Bland and Debra Alberson Bland.
He is survived by a loving sister, Jordan Alberson Bland; grandparents, Charles and Margaret Alberson; aunts and uncles, Charles Alberson, Jr., Nancy Alberson Ellis, Michael Alan Ellis, Jill Alberson Nyland, Dr. James Jacob Nyland; and a cousin, Ben Alberson Nyland.
Braden was predeceased by paternal grandparents, Avery and Daisy Bland of Gaffney, SC.
Braden was a member of Brookwood Church in Simpsonville, SC. He was pursuing an Associate Degree in Engineering at Greenville Technical College. Braden's Life Verse was Jeremiah 29:11. He served the Lord and it was his desire to see others accept and follow Christ. Braden never met a stranger and only saw good in everyone. He loved to hunt, fish, play guitar, write music lyrics and sing. Braden was loved by all who knew him. Braden's life made a difference.
A private burial was held on June 15, 2017 with Reverend Joshua Masters of Brookwood Church officiating. Memorials may be made to: Brookwood Church, 580 Brookwood Point Place, Simpsonville, SC 29681.