Amy Suzanne Bell-May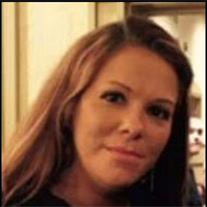 Amy S. Bell-May, 35, of Piedmont, died on Sunday, November 27, 2016 while surrounded by her family.
Born in Greenville, she was a daughter of Laurie Alberson Estes and the late Bruce Franklin Bell and her late step-father, Steve Estes.
In addition to her mother, Amy is survived by her daughter, Kristian Brienna May; her sister, Jamie Morgan Estes; her maternal grandmother, Ann Alberson; and a special man in her life, Ernest Gilpin.
In addition to her father and step-father, she was preceded in death by her maternal grandfather, Ray Alberson; and her paternal grandparents, Robert and Bonnie Bell.
The family will receive friends on Wednesday, November 30, 2016 from 5:00 – 7:00 PM at Cannon Funeral Home.
A funeral service will be held on Thursday, December 1, 2016 at 12:30 PM in the chapel of Cannon Funeral Home.
Burial will follow in Graceland West Cemetery.
The family requests that in lieu of flowers memorials be made to: AID Upstate, 13 South Calhoun, Greenville, SC 29601.